Occupational Health and Safety Services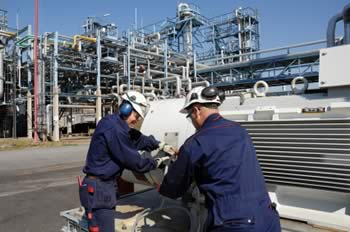 Since 1992, Occupational Health and Safety services have been a mainstay for COEH. Our team includes a former OSHA Compliance Officer, and scientists who are Certified Industrial Hygienists (CIHs) and Certified Safety Professionals. COEH provides a full range of occupational health and safety services from program development to exposure assessments. We will work hard to understand your needs, and develop solutions designed to protect workers and achieve regulatory compliance.
Services
COEH provides the following occupational health and safety services for organizations of all sizes.
• Health and Safety Programs. COEH scientists will develop and implement occupational health and safety programs that may include some or all of the following elements:
• Material Safety Data Sheets (MSDSs). COEH offers comprehensive Material Safety Data Sheet (MSDS) authoring and revision services for our clients. Our experienced team of Certified Industrial Hygienists/ toxicologists has been involved in the development or revision of over 600 MSDSs for products ranging from pharmaceutical intermediates and active pharmaceutical ingredients to specialty chemicals. Our team will manage MSDS development from researching the toxicology and hazards of ingredients, to developing nuanced language to address different target audiences, including employees and downstream users.
• Chemical Exposure Assessments. Using the most reliable air sampling equipment and protocols, COEH will evaluate air quality in a variety of workplace settings, including manufacturing facilities, laboratories, and office environments. Based on a worker's job responsibilities, COEH will develop job-specific exposure estimates, which will facilitate the implementation of control measures to reduce chemical exposures and improve indoor air quality.
• Regulatory Compliance — COEH provides OSHA compliance assistance, which can include: comprehensive occupational health and safety audits, OSHA recordkeeping reviews, regulatory interpretations based on health and safety research, and the development of benchmark health and safety practices in other companies and facilities.
• Health and Safety Training. COEH offers training in: laboratory safety, respiratory protection, hazard communication, bloodborne pathogens, and specialized training.
• Hydraulic Fracturing Health and Safety Services. Using current regulations and guidance from OSHA and NIOSH, COEH utilizes its knowledge of hydraulic fracturing health-related issues gained through several projects for America's Natural Gas Alliance (ANGA) to evaluate worker and community exposures to gas and oil well site emissions. These emissions include fine particulates, crystalline silica and volatile organic compounds. Specific services offered include air and noise sampling, site audits, and development of programs to manage health and safety risks.